by The Grim ~V~eeper

Greetings, everyone...and welcome to this edition of
Celebrity Cemetary, the Grim ~V~eeper's Obituary Page.
DEATH POLL POINTS NEWS

It was looking like a very boring February, until Gemmie's Mike broke the ice in a big way with a whopping 51 points by picking the biggest story of the year so far:

"We've lost Dale Earnhardt"
NASCAR President Mike Helton


Feb. 18: NASCAR motor racing legend Dale Earnhardt Sr. died of injuries after a dramatic crash in the final turn of the last lap of the 43rd Daytona 500. He was 49. Earnhardt, a seven-time NASCAR Winston Cup champion and known on the track as ``The Intimidator'', never regained consciousness after the high-speed collision. Earnhardt, a native of Kannapolis, N.C., had won more than $41 million as the biggest career money-winner in NASCAR. His seven Winston Cup season titles was matched only by Richard Petty.


Gemmie's Mike now has a healthy lead in this year's Death Poll 2001. But don't dispair, players. If you're looking for encouragement, here's the latest from the SICKTICKER at www.stiffs.com ...

Princess Caroline undergoes surgery after being injured in skiing accident... Salman Rushdie back on Iranian shit list... Vaclav Havel, diagnosed with pneumonia, is in stable condition... Johnny Cash hospitalized, also with pneumonia, also in stable condition... Boris Yeltsin may have viral infection, may be stinking drunk... Jerry Lewis recovering from back surgery... Dudley Moore babbling away about nothing...

A friend of Celebrity Cemetery turned the ~V~eeper on to our twisted site of the month, which comes to us from the U.K. It is vedy British in tone, but a lot of good, wholesome, demented fun for the whole family ... http://www.findadeath.com/ ...This guy gives an exhaustive recap to every celebrity death, from the sensational (Nicole Brown Simpson) to the pedestrian (DeForest Kelly). It's opinionated and vaguely cool in a chipping-the-nose-off-Jim-Morrison's-gravestone-for-a-souvenir kind of way.


In our other featured highlight of February's death toll, we also bid farwell to another famous Dale E: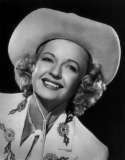 Feb. 7: Dale Evans, the singer-actress who teamed with husband Roy Rogers in popular Westerns and co-wrote their theme song, "Happy Trails to You," died at age 88 in Apple Valley, CA.(The Roy Rogers Museum in Victorville, CA stated that the rumors regarding Dale being stuffed and mounted alongside Trigger are untrue. That might be worth the admission price to see...maybe).



And here's the rest of this month's corpses, piled up in the usual categories:

MUSIC: um,...there wasn't any, really

ACTORS: ditto, at least no one YOU know...

SPORTS


Feb. 18: Eddie Mathews, who hit 512 home runs in a Hall of Fame career and was the only person to play for the Braves in Boston, Milwaukee and Atlanta, died of respiratory failure brought on by pneumonia in La Jolla, CA. (Two days before, his former road roomate, Bob Buhl, also passed away, also of respitory failure.) He was 69. Along with making it to Cooperstown, Mathews used his powerful left-handed swing to land on the first cover of Sports Illustrated.




Jan. 29: Curt Blefary, the 1965 American League rookie of the year who was also a member of the Baltimore Orioles team that won the 1966 World Series, died in Pompano Beach, Fla. at his home of chronic pancreatitis and related ailments. He was 57.






Feb. 2: Eddie Parker, the pool shark whose life was said to have inspired the movie "The Hustler," died of an apparent heart attack on South Padre Island, TX. He was 69. Parker, known as "Fast Eddie," died at the U.S. Classic Billiards Eight-ball Showdown, officials said.






Feb. 21: Bill Rigney, the first manager of the Angels and by far the winningest skipper in club history, died of complications from pneumonia in Walnut Creek, Calif. He was 83. He was also the first manager of the Giants after they moved from New York to San Francisco.




MISC . . .




Feb. 16: Dr. William H. Masters, one of the first and leading researchers in the field of human sexuality, died in a Tucson, Ariz. hospital of complications from Parkinson's disease, a hospital spokeswoman said. He was 85.








Feb. 7: Anne Morrow Lindbergh, who blazed air routes with her husband, Charles, at the dawn of commercial aviation and was one of the past century's most important and popular American women writers and diarists, died at her home in Passumpsic, Vt. She was 94.




Feb. 8: Arlene Eisenberg, co-author with her two daughters of the best-selling pregnancy guide "What to Expect When You're Expecting," died of breast cancer at Memorial Sloan-Kettering Cancer Center in New York City. She was 66. Since its release by Workman Publishing Co. in 1984, the book has become the bible of pregnancy, with 9.6 million copies sold.(Dammit, wrong Eisenberg. If it had been Haile Eisenberg, the Pepsi girl, some of our players would have been pleased)


And finally, an enjoyable case of Instant Karma:


Jan. 29: Alexander Spears III, a former chairman and chief executive of Lorillard Tobacco Co., died of lung cancer in Greensboro, NC. He was 68. (This is THE evil tobacco exec guy who stated nicotine wasn't addictive in a Florida second-hand smoke trial. Lorillard was also caught marketing to teenagers and lots of other misdeeds. The Web is loaded with sites on this, but a good summary can be found at http://tobacco.neu.edu/tcu/3-1/lorillard.htm
(Evil tobacco guy? Dies of lung cancer? I'm sorry, but this celebrity corpse pleases the ~V~eep-man to no end MOO HOO HOO HAA HAAAAH!)


Stay tuned to the page for an up and coming Dead Or Alive game to test your C.Q. (Cadaver Quotent) that will be debutting within the next couple of months.

So, farewell until next month,

DG~V~
Celebrity Death Poll 2001 player's picks