Welcome to the first installment of "At the Movies with tkt". Each month, I will review one current theatrical release and one video release. Normally the video one will be my "Retro Pick O' the Month" but in honor of the upcoming Oscars, this month I'll be reviewing a newer video that's up for some big awards this year. Speaking of the Oscars, join my online Oscar Pick Em at http://moviegames.yahoo.com/oscars . We're private group #229 and the password is "HOT". Off we go!


CAST AWAY
Rated: PG 13
CAST: Tom Hanks, Helen Hunt, Chris Noth, Nick Searcy

DIRECTOR: Robert Zemeckis



What's it All About, Alfie?
Chuck Noland (Tom Hanks) is a FedEx exec who is in a plane crash and gets marooned on an island for 4 years. After managing to survive alone on the island for 4 years, he constructs a raft and is rescued by a passing ship. When he returns home, he must face the way his former life has changed, and his friends and loved ones must also cope with the return of the man they had long since presumed dead.


My Two Cents
I didn't get to see this film until it had been out for about 3 weeks. All I heard from people who DID see it was "oh the part when he's on the island is SO BORING! There is NO dialogue for a whole HOUR!" DO NOT listen to people that tell you this! Not once in this film was I the least bit bored, and when he's on the island, there is actually quite a bit of dialogue. Tom
Hanks gives an excellent performance that will more than likely earn him a third Best Actor Oscar. The BEST part of the whole movie is "Wilson", the volleyball that becomes Chuck's only companion on the island. The one part of the island experience I found unbelieveable was how Chuck so instinctively knew how to do so many things. It wasn't like he was a forest ranger in his old life, but somehow he makes a fire and kills fish with a spear and makes his own rope. The part after he gets back from the island is my least favorite part of the film.
*WARNING- possible spoiler here, read on if you dare* When Chuck gets back, he discovers that his girlfriend Kelly (Helen Hunt), has married and had a child in his absence. While no one can blame her for this, she of course believed Chuck to be dead, the sentimental one in me wanted Chuck and Kelly to be together like they were before. At the very end of the film, Chuck comes to the realization that he and Kelly will never be together, and starts his life over (with Wilson by his side, of course).


Would I Buy This film on DVD?
Yes, this is definitely a film that can and should be watched more than one time. The performances by Tom Hanks and Helen Hunt are both excellent, and for me to say anything involving Helen Hunt is excellent is really saying something. Overall, I give this film 4 out of 5 fireballs.





ERIN BROCKOVICH
Rated: R
CAST: Julia Roberts, Albert Finney, Aaron Eckhart, Marg Helgenberger, Cherry Jones, Peter Coyote

DIRECTOR: Steven Soderbergh



What's It All About, Alfie?
Erin Brockovich (Julia Roberts), is a headstrong single mother of three who gets a job as a research assistant at a law firm. She uncovers evidence that a utility company is responsible for outbreaks of cancer and other terminal diseases in a small California town, and persuades the victims to file a lawsuit against the company. Based on a true story.

My Two Cents
Julia Roberts, precious kids. Right there, the movie started out with two strikes against it in my book. Julia is NOT one of my favorites, although most of America will disagree with me. Though it pains me to say it, her performance in this film is excellent. She will probably win the Oscar and probably deserves it, although to be fair, I haven't seen the other nominated performances this year. Oscar nominee Albert Finney was also excellent, he was probably my favorite thing about the film. The film itself was not as good. It was boring and preachy. Erin thought that everyone should feel sorry for her because she was poor with 3 kids and two deadbeat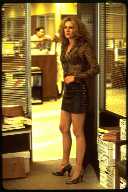 ex-husbands. Then she gets obsessed with the lawsuit and pretty much ignored her kids but then says that "she's doing it for them". The subplot involving her biker boyfriend that she uses for a babysitter until he gets fed up and leaves her is just sort of forgotten about after a while too. The one thing I DID like about Erin was how she knew EVERYTHING about her clients, as opposed to the real lawyers who just saw them as names on paper that could maybe make them some money. At the end, everything turns out wonderfully for Erin, of course. The real Erin Brockovich has a cameo in the film as a waitress.

Would I Buy This Film on DVD?
No. Although every other woman in the USA already has it on DVD or VHS, so the loss of my one sale probably won't hurt. Despite excellent performances by Julia Roberts and Albert Finney, I give this film 2 out of 5 fireballs.




HOT OFF THE PRESS
salutes this month's featured writer: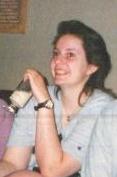 MISS MARCH: tktwrtr

Enter our drawing to win this Oscar statuette keychain. The winner
will be randomly drawn from all entries, notified via E-mail on
March 25th, and will have their name printed in our April edition. To
enter, just send an email with "Enter Me" in the subject line, and
"I want it" in the body of the letter to:
thehotpress@yahoo.com