by The Grim ~V~eeper

Greetings, everyone...and welcome to this edition of
Celebrity Cemetary, the Grim ~V~eeper's Obituary Page.

Ah, spring...the grand thawing of the winter blues. Everything begins to bloom, and life begins anew. I loathe it. However, all of those lovely flowers need their nutrients, and we have an interesting month of celebrity fertilzer for the vernal flora...heh heh heh

Dangnabit... no player points this month. In February, we had a player with the wrong Eisenberg, this time around we have another close call:

March 13: Morton (not Robert) Downey Jr., the combative talk show host of the late '80s who prided himself on being the biggest mouth on

television, died in Los Angeles after a long bout with lung cancer. He was 68. The tough-talking Downey, who often would blow smoke in the faces of guests he disagreed with, had been suffering from the disease since 1996, the same year he kicked his 50-year smoking habit and became an antitobacco activist and posterboy for the American Lung Association. Before hitting the airwaves, the younger Downey established a reputation as an author, radio host, businessman and singer-songwriter who composed such surf-rock tunes as "Pipeline" and the abiquitous "Wipeout."


We all know it is an undeniable fact that death comes in threes. In March, the troika was from the world of cartoons:




March 22: Animation pioneer and legend William Hanna, who revolutionized television animation along with his partner Joseph Barbera, creating hundreds of enduring characters such as Yogi Bear, Huckleberry Hound, the Flintstones, Scooby Doo, the Jetsons and numerous others, died at his North Hollywood, CA home. He was 90.





March 18: Fred Lasswell, 84, who drew the "Snuffy Smith" comic strip for nearly 60 years, died at his Tampa home of congestive heart failure. He continued working until the end, leaving behind 49 "Barney Google and Snuffy Smith" strips in his studio.





March 16: Norma MacMillan, who provided the voice for cartoon characters such as Casper The Friendly Ghost, Gumby, and Sweet Polly Purebred that delighted a generation and sold everything from cars to food products in a myriad of commercials, died of a heart attack. She was 79.



And here's the rest of this month's corpses, piled up in the usual categories:


MUSIC

March 18: Songwriter John Phillips, who as a member of the Mamas and the Papas penned "California Dreamin" and other hits by the 1960s pop
group, died of heart failure at the University of California, Los Angeles Medical Center. He was 65. The Mamas and the Papas' debut single, "California Dreamin'," was released in 1966. "Monday, Monday" and a string of other hits soon followed until the band broke up in 1968. Two decades later, the band was inducted into the Rock and Roll Hall of Fame. (His estate should get a rebate on the liver transplant)



March 4: Glenn Hughes, 50, the 'leather-clad biker' of disco group the Village People, died of lung cancer. Hughes was one of the original founding members of the wildly popular ensemble in 1977, and became known as the 'leatherman' with his trademark black leather and chain outfits, thick handlebar mustache, and deep voice. At his request, Hughes was buried in his leatherman outfit.

March 19: Elena Del Rubio, a member of the Del Rubio Triplets, a 1950s sister act that attracted a camp following in the 1980s, died at her San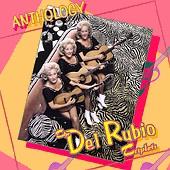 Pedro, CA home after a short battle with cancer. She was believed to be in her 70s.

A Flying V note: Sister Eadie also passed away of cancer on December 16, 1996. Milly, the remaining sister, is currently in good physical health, but is suffering a great loss that not many will ever face in their lifetime. The Del Rubio Triplets never separated since the day they were born (only fifteen minutes apart). They never married. They shared their entire lives working and living together 24 hours a day. If you're looking for some good karma, sending a card or a note might help cheer up a very sad lady:
Milly Del Rubio
2275 West 25th Street, Box 30
San Pedro, CA 90732


ACTORS





March 15: Ann Sothern, the veteran actress best known for her deft portrayals of sassy and resourceful blonds in television sitcoms of the 1950s and 1960s, died of heart failure at her home in Ketchum, Idaho. She was 92.





March 8: Edward Winter, 63, a versatile character actor probably best known for his recurring role as "Colonel Flagg" on the hit television series "MASH," died of Parkinson's Disease at the Motion Picture & Television Hospital in Woodland Hills, CA. His film credits included "A Change of Seasons," "The Buddy System," "From the Hip," and "Porky's 2."


SPORTS


Feb. 25: Sir Donald Bradman, the Australian cricket star rated the greatest player in the history of the sport died of pneumonia in Adelaide, South Australia. He was 92. Bradman's astounding test scoring average of 99.94 was 40 to 50 runs higher than that of other outstanding cricket players. At 91, he was named the Australian sportsman of the century at a ceremony in 1999. (This would be comparable to Babe Ruth just now passing away here. Or course, no one in the U.S. give a rats ass about cricket...G'day Donnie)


MISC . . .

March 1: Henry M. Wade, the legendary Texas prosecutor whose 36-year

tenure as Dallas County district attorney placed him in the national spotlight during two historic moments--he was the Wade in the landmark abortion ruling Roe vs. Wade and he prosecuted Jack Ruby, died in Dallas of complications from Parkinson's disease. He was 86. He was a law-and-order icon in Texas who never lost a case he prosecuted. He sought the death penalty 30 times and got it 29 times. His office reported conviction rates greater than 90%. Beleaguered defense attorneys banded together in a 7 Percent Club, an acknowlegement of their unimpressive record against the formidable Wade.



March 12: Suspense writer Robert Ludlum, the prolific author of "The Scarlatti Inheritance" and other complex spy thrillers that routinely topped bestseller lists, died in Naples, Florida after suffering a massive heart attack. He was 73 years old.



And finally, news that made 7-Eleven flags everywhere fly at half-staff:




March 20: Adolph "Al" Levis, who invented Slim Jims, the dried meat snack popular in both hikers' backpacks and the hands of sports-viewing couch potatoes, died of an undisclosed illness at a hospice in Boca Raton, FL, at the age of 89.



So, farewell {s burrp} til next time,

DG~V~
Celebrity Death Poll 2001 player's picks