by The Grim ~V~eeper

<Voice of Ed McMahon> Greetings, everyone...and welcome to a special edition of Celebrity Cemetery...

<drumroll>


From Television City in Burbank, CA, it's.....

The Afterlife Tonight Show with guest host The Grim Veeper

And heeeeeeeeerrrrrrrreeeeees Grimmy!

<cue music> <applause>

Thank you, Ed... thank you everyone...you're far too kind...

Well, it's great to be here and I tell ya, this summer...its been a hot one...
<audience silence>

I said "IT'S BEEN A HOT SUMMER"

<audience: HOW HOT IS IT?>

Finally! <chuckle> Well, I tell ya, it's been so hot that the football practices have a body count...

<audience: groan>

Hey! I don't make this stuff up....There have been 11 football-related fatalities this year, ranging from middle schools to the pros. The two most notable:




Aug 1: Korey Stringer, died due to complications from heat stroke. A first-round pick out of Ohio State in the 1995 draft, Stringer stepped into the lineup immediately as the Minnesota Vikings Right Tackle and started 91 of the 93 games he played in.





Aug 3: Rashidi Wheeler, died after collapsing during a conditioning drill. The stimulant ephedrine, which Wheeler reportedly had taken the day of his death, may have contributed to the death of this Strong Safety from Northwestern University.


Oh! Say... guess which cat doesn't have nine lives?

(Ed) One of your ex-wives?


Ed, that doesn't make sense...

(Ed) Julie Newmar? growwwwl...

You're drunk again, aren't you, Ed?

(Ed) Hiyooo!

<sigh> No, I'm talking about Garfield!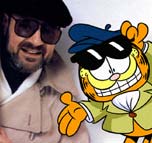 Aug 5: Lorenzo Music, died in Los Angeles from bone-cancer. He was the voice of Carlton, the unseen drunk doorman of the TV series "Rhoda," as well as Garfield the Cat, a crash dummy and a pig Latin-spouting spokesperson for the Queen Mary. He was 64.



And in other news, we had two more players break the ice in Death Poll 2001 ... Weber received a whopping 40 points for this presidential daughter:





Aug 8: Maureen Reagan, died from skin cancer. This outspoken presidential daughter became a crusader for Alzheimer's disease awareness after her father fell ill. She was the first child of Ronald Reagan from his first marriage to actress Jane Wyman. She died peacefully at her Sacramento-area home at the age of 60.



...and last year's co-champion Twins gets 16 points for this off-the-wall pick:




Aug 10: Lou Boudreau, dead in Olympia Falls, IL, of cardiac arrest. This Hall of Fame shortstop managed the Cleveland Indians to the 1948 World Series championship. Boudreau was named the Indians' honorary captain for this current season, but failing health prevented him from attending opening-day ceremonies. His 13 seasons with the Indians, nine as a player/manager, included many milestones. In 1941, He became the youngest manager in baseball history at age 24. He managed the team that integrated the American League, when Larry Doby joined the Indians in 1947. And, he was elected to the Hall of Fame in 1970. He was 84.


Well, we have a great show tonight, featuring these freshly-deceased stars:




Aug 3: Christopher Hewett, the British-born stage actor perhaps best remembered as television's endearing English butler "Mr. Belvedere" from 1985 to 1990. He was 80.






Aug 14: Earl Anthony, died at a friend's home in suburban Milwaukee. He was a six-time Professional Bowlers Association bowler of the year, and its greatest winner with 41 professional titles. The crew-cut, bespectacled Anthony was one of bowling's most familiar faces when the sport was a weekly fixture on television in the 1970s. He was its first player to break the $1-million barrier in winnings. He was 63.




Aug 20: Kim Stanley, died in Sante Fe, NM, of uterine cancer. She was best known on Broadway in the 1950s for such roles as Cherie, the small-town "chantoosie" of William Inge's "Bus Stop". Stanley appeared in five motion pictures, beginning with "The Goddess" in 1958 and ending with "The Right Stuff" in 1983. Despite her limited film output, Stanley received two Oscar nominations: for her portrayal of the crazed medium in "Seance on a Wet Afternoon" (1964), then (after an 18-year screen absence) for the raging mother of Frances Farmer in "Frances" (1982). She was 76.




Aug 25: Aaliyah (Haughton), killed along with eight other people when a small Cessna passenger plane crashed and burst into flames shortly after taking off from an island in the Bahamas. This R&B sensation sold a million copies of her 1994 debut album "Age Ain't Nothing But a Number", and more recently the single "Try Again" became a big hit. She was only 22.




So, stay tuned until next month...and awayyyyy we go!

DG~V~

Celebrity Death Poll 2001 player's picks