by The Grim ~V~eeper

Greetings, everyone...and welcome to this edition of
Celebrity Cemetary, the Grim ~V~eeper's Obituary Page.

As Alice Cooper might say, Hello! Hooray!

Da Grim ~V~eep is sun-dried, rested and ready for the this two month extravaganza...AND...We HAVE player points for the Death Poll 2001 game
...MOO HOO HOO HAA HAA HAAAAH!


June 21: Carroll O'Connor, whose portrayal of irascible bigot Archie Bunker on All in the Family helped make the groundbreaking TV comedy part of the American dialogue on race and politics, died of a heart attack. He was 76. Sooo, Smiles, Mad Dog, and Mary Xmas profited with 24 points a piece. They were all tied for 2nd place, trailing Gemmie's Mike by 27 points. But if that wasn't good news enough, less than a week later...




June 27: Jack Lemmon, the two-time Oscar winner whose acting talents ranged from adroit comedies The Apartment and Some Like It Hot to the dramatic intensity of Days of Wine and Roses and Tuesdays with Morrie, died from complications of cancer. He was also 76. Again, Smiles, along with Pikey, score 24 points.



We got a game now, bay-bee, with the scores as follows:

Gemmies Mike - 51
Smiles - 48
Mary Hoho - 24
Mad Dog - 24
Pikey - 24
All others - zip, nada, crabs and icewater, zilch...

Yesss...we are heating up, just in time for summer...stay tuned, players...Remember, a roll of Mentos and a yet-to-be-revealed mystery prize is on the line...not to mention your name engraved upon the imaginary-yet-coveted Esther Rolle Memorial Trophy.

So, for our featured celebrity corpses on parade, we have it all: a Mexican-
Irish guy, a Coco, a Como, Astronaut, girl jock, and a Hooker...



TV & CINEMA



June 3: Anthony Quinn, the Mexican Irish Academy Award-winning actor whose earthy portrayals of such characters as Zorba the Greek and the patriarch in The Children of Sanchez made him larger than life to millions, died of respiratory failure in a Boston hospital. He was 86.





May 22: Whitman Mayo, the actor who made "good goobily goop!" a part of the 1970s American lexicon as Grady Wilson, the gray-bearded sidekick of Redd Foxx on television's popular Sanford and Son, died of a heart attack at the age of 70. Mayo had continued to take occasional roles and was teaching drama at Clark Atlanta University, in suburban Atlanta.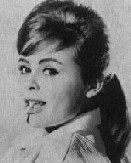 May 10: Deborah Walley, the perky young actress who succeeded Sandra Dee as the "girl midget" in the first Gidget sequel, starred in several of the 1960s beach frolic movies and became a writer and producer aiding children and Native Americans, died of cancer. She was 57.






June 2: Imogene Coca, the versatile comedian who starred with Sid Caesar in the legendary television hit Your Show of Shows, died of natural causes at her home in Westport, Conn. She was 92. On the big screen, she played Aunt Edna in National Lampoon's Vacation.





May 31: Arlene Francis, the actress and television personality who was perhaps best known as a regular panelist on the long-running quiz show What's My Line?, died of natural causes at Kaiser Hospital in San Francisco. She was 93.




MUSIC

June 30: Chet Atkins, whose guitar style influenced a generation of rock 3
musicians even as he helped develop an easygoing country style to compete with it, died at home at the age of 77. Atkins had battled cancer for several years. Atkins recorded more than 75 albums of guitar instrumentals and sold more than 75 million albums. He played on hundreds of hit records, including those of Elvis Presley ("Heartbreak Hotel"), Hank Williams Sr. ("Your Cheatin' Heart," "Jambalaya") and The Everly Brothers ("Wake Up Little Susie").




May 12: Perry Como, 88, the crooning baritone barber famous for his relaxed vocals, cardigan sweaters and television Christmas specials, died after a lengthy illness. In 1945, Como had his first million-selling hit, "Till the End of Time." It was among many songs including "Prisoner of Love" that topped the charts. He competed with Frank Sinatra and Crosby to be the era's top crooner.





June 21: Veteran bluesman John Lee Hooker, whose foot stompin' and gravelly voice on songs like "Boom Boom" and "Boogie Chillen'' electrified audiences and inspired generations of musicians, died of natural causes as he slept at his home in Los Altos, CA, south of San Francisco. He was 83.



SPORTS





June 10: John McKay, who led Southern California to four national football championships before becoming the first coach of the Tampa Bay Buccaneers, died of kidney failure due to complications from diabetes. He was 77.




June 15: Sam Jethroe, 83, one of the first black baseball players in the major leagues and the oldest player to win rookie of the year honors, died in Erie, Pa. Jethroe, nicknamed "The Jet" for his speed, was the first black player on the Boston Braves when he made his major league debut in 1950. He was named rookie of the year that season at age 32.




May 12: Former WNBA Sacramento Monarchs' Corissa Yasen was found dead at her home in Couer D'Alene, Idaho of a precription drug overdose. She was 27. Yasen was Purdue University's female athlete of the year in 1994-95 and 1995-96, and became Purdue's first female NCAA track champion in 1996 when she won the heptathlon.



MISC . . .


May 24: Patricia Hilliard Robertson, 38, a NASA astronaut, died of severe burns received in the crash of a small plane outside Houston. Robertson, scheduled to take a space shuttle mission in 2002, was the passenger in a plane which was practicing landing and takeoff maneuvers. Witnesses said the plane cartwheeled and crashed into some trees, bursting into flames seconds later.


June 1: Hank Ketcham, whose lovable scamp "Dennis the Menace"

tormented cranky Mr. Wilson and amused readers of comics for five decades, died at the age of 81 at his home in Pebble Beach. Ketcham, had suffered from heart disease and cancer. The strip inspired several books of cartoons, a television show, a musical, a 1993 movie and a playground in Monterey, where Ketcham had his studio. The TV show, starring Jay North as Dennis, ran on CBS from 1959 to 1963.



May 11: Douglas Adams, the author of "The Hitch Hiker's Guide to the Galaxy," died in Santa Barbara, California, after a heart attack at the age of 49. Adams became a household name in Britain when his 1979 cult science fiction saga, about a group of galactic travelers who survive the demolition of earth to build a space by-pass, sold more than 14 million copies worldwide.



And finally...

May 28: "The Remington MicroScreen shaver shaves as close as a blade. . . I liked it so much I bought the company."

Victor K. Kiam II, the salesman's salesman known for turning around failing companies like Benrus watches and Remington shavers and prodding other bosses to pitch their own products on television, died at the
age of 74. Kiam, the football zealot who was unable to inspire the same turnaround in the fortunes of the New England Patriots team he once owned, died at his home in Stamford, Conn. The chain smoker with the internationally known gravelly voice had suffered several heart attacks.

A national incident occurred Sept. 17, 1990, when the Boston Herald's Lisa Olson conducted a postgame interview near the Patriots' shower area. She later sued Kiam, the team general manager and three players for sexual harassment, charging that the players had made lewd comments and exposed themselves. To which Dennis Miller quipped "He liked Zeke Mowatt's penis so much, he bought the Patriots".


So, farewell til next time,

DG~V~
Celebrity Death Poll 2001 player's picks