Today's tour guide: Gabby

The Canadian Rockies
Banff, Canada
(click on the images for enlarged views)

Tired of the sweltering heat, this summer's family vacation took us all the way up north to the spectacular Canadian Rockies, where it's a comfortable 50 to 60 degrees in June, the exchange rate is $1 US to $1.50 CAD, and you can drive over 90 without getting a ticket. Kilometers per hour, that is.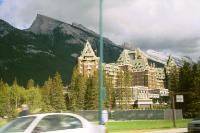 Ninety minutes from Calgary, located in Banff National Park, the town of Banff sits along the raging Bow River in the heart of the Canadian Rockies. The Fairmont Banff Springs Hotel, nestled on a mountainside and styled after a Scottish baronial castle, offers stunning vistas, a world-class spa, and championship golf and skiing.





A comfortable 8 minute gondola ride up Sulphur Mountain puts nature and snow enthusiasts in clear and safe view of the grizzly bears, elk and bighorn sheep that make their home in the spectacular alpine forests. Don't look down!






Finally reaching the top of Sulphur Mountain, we were treated to the most spectacular view of Banff and the surrounding mountains. Simply breathtaking! Sulphur Mountain also contains naturally heated springs with an outdoor heated pool.





Also located in Banff National Park is the Chateau Lake Louise, situated on the open side of the lake surrounded by glaciar mountains. You can hike up a mountain trail or rent a canoe for a lazy afternoon on the serene lake. In the winter, there are ice sculptures on the lake and the adventurous can climb frozen water falls.






About a half hour's drive from Lake Louise, up and then down a winding mountain road, is Moraine Lake, in the "Valley of 10 Peaks" (although I counted 12). The best way to view this scenic spot is by hiking the Rockpile Trail to the top of the large jumble of rocks at the outlet of the lake. Our lovely little model couldn't resist hamming it up for the camera and striking a pose.








The Great Divide runs across the tops of the jagged peaks behind Moraine Lake. Stoney Indian names were originally given to the 10 peaks by 19th century mountaineers. Until recently this lake and the peaks in the valley were featured on the back of Canada's $20.00 bill. You can also stroll to the far end of the lake on the well-built lakeshore trail, take a short walk to nearby Consolation Lakes or go canoeing.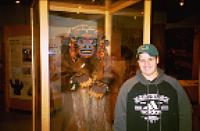 Banff is very proud of its cultural heritage. In town, local museums keep the rich history alive and specialty boutiques line the main street. The Banff Park Museum is the oldest natural history museum in Western Canada. The Whyte Museum contains native exhibits, historical displays and research archives.