by Gabby

Beat the Frizzies
I have curly hair. For years I've battled the frizzies and blown it straight. I've tried every hair straightening product out there, so I have some expertise on this subject. You don't have to go to a salon to get it blown out straight, shiny, and smooth. Once you understand that frizz is caused by a lack of moisture, you can achieve beautiful hair at home.
1) Don't shampoo every day. Instead of shampooing, which strips hair of moisture, just wet and condition with a conditioner made for your hair type . Don't rinse all of the conditioner out of the hair. (Only rinse for 20 to 30 seconds.)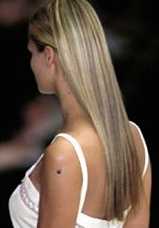 2) Use a leave-in rinse immediately after toweling your hair. (Personal favorite: Infusium) Then coat hair with a straightening balm or smoothing gel. (Personal favorite: Str-8) This will make the brush glide more easily through the hair and will coat the hair to prevent loss of moisture. Try to use a flat brush with combination natural and nylon bristles.

3) Separate your hair into sections using clips. Don't make sections wider than the brush.

4) Follow your brush with the blow-dryer moving in one direction from top to bottom. Never go up and down. Moving in one direction will cause the cuticle to lie flat. Also, using a professional blow-dryer with a nozzle will concentrate the heat and make hair smoother. Make sure to dry each section completely before moving on to the next.

5) Finish off the style with a finishing product containing oil. (Personal favorite: John Freida's Frizz Eaze) Rub a drop in your hands and flatten hair starting at the top of your part and moving down the sides. Don't use hair spray, which absorbs oil.

6) If you want an extra sleek look for a special occasion, use a professional flat iron. (Save it for once-in-a-while. Everyday use is damaging to the hair.) First, section hair and run the flat iron as close to the root as possible, slowly working towards the ends. Use a drop of finishing product on each section to keep the look.
If you don't have the time to go straight, make the most of what you've got and leave your hair curly. After shampooing and conditioning, blot hair dry with a towel. Avoid over-rubbing, which causes frizzies. Use a dollop of gel to add moisture, scrunch through your hair, and let it dry naturally.