Today's Tour Guide: Musclebunny

Plymouth, Massachusetts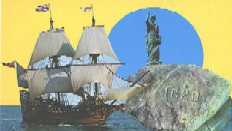 Plymouth is a town in southeastern Massachusetts, on Plymouth Bay, about 55 km (34 mi) southeast of Boston. The seat of Plymouth County, it was the site of the first permanent European settlement in New England; it is now a fishing and tourist center with ship-related industries and cranberry-packing houses. Plymouth Rock, a tourist attraction, is on the shore under a granite canopy; recreations of Plimoth Plantation and the Mayflower are also there. The pilgrims founded Plymouth on Dec. 21, 1620, establishing a settlement that became the seat of Plymouth Colony in 1633 and a part of Massachusetts Bay Colony in 1691.
Museums And Historical Sites:
Plymouth Plantation: Where history repeats itself. 17th century New England is brought to life in the 1627 Pilgrim Village and onboard Mayflower II. Visitors find themselves transported in time by Pilgrims and the ship's crew who are portrayed in amazingly accurate detail, even speaking in period dialects as they perform the tasks of daily life.

Plymouth National Wax Museum: This museum presents the Pilgrim Story in the magic of light, sound, and animation. 16 Carver Street, Plymouth, (508)746-6468

Burial Hill: A must stop along the historic Pilgrim's Path. This site is one of the first forts of the Pilgrims and the burial place of William Bradford and other first settlers. Set high a top of the hill the Pilgrims placed their cannons facing the harbor for the protection.

National Monument to the Forefathers: The largest solid granite monument in the U.S. stands at the top of a hill facing east to the harbor welcoming those who come by water. Allerton St., Plymouth

Plymouth Rock: Where it all began.
Events and Entertainment
November 22, 23, 24, 25 2000
1620 Theme Dining
Plimoth Plantation
Plimoth Plantation - 508-746-1622 x 8366
www.plimoth.org

November 22 - 24
Thanksgiving Tours
Colonial Lantern Tours offers guided evening walking tours of the original Plantation site and Plymouth historic district complete with punched tin lanterns.
98 Water St. Plymouth, MA 02360
(508) 747-4161 or (800) 698-5636
http://www.plimouth.com/

November 23, 2000
10:00 AM - 2:00 PM
Thanksgiving Open House
1677 Harlow Old Fort House
Receive a warm colonial welcome at the historic 1677 Harlow homestead. Costumed guides prepare Pilgrim era recipes at the open hearth and give demonstrations of colonial crafts. Activities for children and tours of historic house free to the public today.
Antiquarian Society - 508-746-0012

November 23, 2000
Thanksgiving Day
Plimoth Plantation
Plimoth Plantation is the quintessential place to spend the Thanksgiving Holiday. Throughout the day, our living history sites are filled with activities of the 17th century. Food and Beverages are available throughout the Visitor Center and outside the Carriage House Craft Center. Create Thangsgiving memories you'll always cherish. The Victorian Thanksgiving Dinner is an experience to behold with food of the Victorian period and Victorian interpreters who entertain in grand style. The New England Thanksgiving Buffet offers a traditional Thanksgiving meal with a New England flair! Dinners available by reservation beginning August 2000.
Plimoth Plantation - 508-746-1622 x.8213
www.plimoth.org
How do I get there?
From Boston and points North: Take Interstate 93 South to Route 3 South. Plymouth is located just off Route 3 at Exit 6.
From New York and Points South: Take Interstate 95 North through Providence, R.I., to Interstate 495 South a short distance to Exit 6, then Route 44 East to Plymouth.