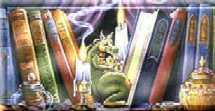 by Finzzzz
Happy December!! I hope you all get to take a break from the hustle and bustle of this holiday season, curl up on the sofa with a mug of hot chocolate, and read a nice good book.

Meanwhile, I've compiled a list of some HOT new books this month guaranteed to satisfy just about every person on your shopping list. Stuff your stockings with some of these great titles:
*****For The Mystery Lover*****
Deviant Ways
by Chris Mooney (Pocket Books, 24.95)


Talk about a roller coaster ride! Former FBI profiler Jack Casey has retired and is now a detective in Marblehead, Massachusetts. He's haunted by the memories of the death of his wife at the hands of a demented serial killer in which Jack was powerless to stop. Unfortunately a new threat has entered his life, The Sandman, and he's set his eyes on playing games with Jack. This isn't your standard 'FBI profiler vs. psychopathic serial killer' novel, it's much more. Mooney writes with a cinematic eye creating scenes that come after you relentlessly. You won't have time to catch your breath. His characters come to life on the page and are hardly standard cardboard cutouts you normally find in this type of fare. Expect to be thrilled from this first time author, and then expect to hear more from him in the future.


*****For the "Little" Rock in your life*****

Mick Foley's Christmas Chaos
by Mick Foley (Harper Collins, 19.95)



The elves were running everywhere--they were loud and brash and rude, and Tommy Top, the tallest elf, was running in the nude. The elves were throwing toys and games, and to make things even worse, Billy Bop, the smallest elf, was teaching them to curse...

Wrestling superstar Mick Foley scores a big hit with this rude, crude, yet delightfully charming Christmas poem illustrated by another wrestling superstar Jerry Lawler. It seems Santa has lost the Christmas spirit and it's up to the stars of the WWF to help get Santa back into the mood. This poem is destined to become a Christmas classic. Lawler's illustrations are bright and colorful and compliment the book.


*****For the Baseball Fanatic*****

Take Me Out to the Ballpark:
An Illustrated Guide to Baseball Parks Past & Present
by Josh Leventhal (Black Dog, 29.98)



From the book cover:This dazzling, full color, stadium-shaped book is the ultimate tribute to the hallowed homes of baseball past and present, vividly bringing to life the facts, legends, lore and excitement of America's favorite sport. Every current major league ballpark, fields under construction, famous stadiums from baseball's past
and the most interesting minor and Negro league parks are presented in huge full-color photographs and illustrations-over 250 in all. The captivating detailed text reveals the thrill of being in them-from bygone classics like the Polo Grounds, Ebbetts Field and Comisky Park to current favorites like Fenway, Camden Yards and Dodger Stadium. Fascinating stories about teams new and old and unforgettable moments, vital statistics and profiles of the greatest players-presented in colorful sidebars and boxes-highlight the distinguishing
stories and characteristics of each ballpark. Fun features on food at the ballpark, famous announcers, mascots and more tell all the inside stories behind the stadiums.

What a fun book -- sure to please the baseball fanatic in your life! Shaped like a stadium, this book is filled with tons of great trivia (it's good if you plan on running a baseball trivia game!).


*****For that woman in your life*****

Three Black Skirts : All You Need To Survive
by Anna Johnson (Workman, 22.95)


From the book cover: It's the real thing. It's about getting your life together. It's about looking damn fine. It's about man handling. It's about the casa question. About solitude. About stain removal. Whether you're a young woman just out of school and starting a career or a harriedly successful thirty-something, if you're still wasting time looking for stockings that match or struggling to keep on top of credit card bills, you need help. And not a glossy monthly's unattainable idea of help, but the stuff that works-the nuts and bolts. Anna Johnson's THREE BLACK SKIRTS is the book that delivers. In a voice that's knowing, smart, hip and funny-and with the author's own retro illustrations to match-Ms. Johnson cuts right to the core of the chaos that passes for life today and shows how to find order, balance, fulfillment. She covers it all: health, dating, career moves, finances, entertaining, body image, sex, and, of course, the indispensability of owning three black skirts. She offers the twenty basics for money management, and three keys for shopaholics to gain control over their passion. A workshop to build better food habits. Ten ways to get to sleep. Dress codes to the major cities. A Schmoozer's Guide to Compliments. Principles of Modern Courtship. And everything in between, from an extensive stain removal chart to eleven ideas for reawakening your spiritual life.

You may want to give this book a try for all those immediate emergencies that come up. What should I wear to the Boston Bash? How can I stop being a shopaholic? What happens if my maid quits on me? (Ok, I don't think that's in there, maybe the sequel)!


*****For the parrot head in your life*****

A Trip to the Beach : Living on Island Time in the Caribbean
by Melinda and Robert Blanchard (Clarkson Potter, 25.00)


Melinda and Robert Blanchard, owner of Blanchard and Blanchard Specialty Food Shops in Vermont, travel to Anguilla in the Caribbean, fall in love with the island and decide to open up a restaurant. This book chronicles a year in the life of living on island time. Wonderfully written, full of colorful island characters and amusing anecdotes, who of us hasn't wanted to chuck it all and move to the Caribbean? If you enjoyed the travel books of Frances Mayes and Peter Mayle, give this one a try, and send me a postcard when you get to Anguilla!

*****December Book of the Month*****
Continuing with our selections of Book of the Month, watch out Oprah, I present another interesting mystery you'll be sure to love.

Mr. White's Confession
by Robert Clark (Picador, 14.00)


The winner of the 1999 Edgar Award for Best Mystery, this is a stylish noir, quite compelling and intriguing. Set in St. Paul, Minnesota in 1939, the body of a beautiful dime-a-dance girl is found on a hillside. Police Lieutenant Wesley Horner, struggling and alone after his wife's recent death, heads the investigation into her murder. His chief suspect is Herbert White. White is an eccentric recluse and hobby photographer who spends his days recording his life in detailed journal entries and scrapbooks. Did Herbert White commit this crime? Clark does a marvelous job unfolding the complexities of his characters, creating a thought provoking novel where memories play an important part in understanding the past and the present. Not quite a Whodunnit, more of a Didhedoit, and will the truth finally emerge?

Let me know what you think about December's Book of the Month, as well as November's Book of the Month, Motherless Brooklyn.
E-Mail me at Finzzzz@aol.com .

Have a safe and happy holiday!!