by Gabby
Y2K Fashion Collections
If the fashion designers who created the Spring 2000 collections are right, American women will greet the first warm months of the new millennium dressed in a hodgepodge of sheer fabrics, feminine froufrou, edgy street wear, 80s redux details, and souped-up sportswear. Even people whose usual response to runway looks is an incredulous, "Who'd wear that?" will brighten up a bit. Here are samples of the new Spring lines from some of the most popular designers. Add some good sense, and a few wardrobe secrets and you'll be "prete a porter"...ready to wear!



Ralph Lauren - Lose the fringe, and you've got a classic American look that's been in style since the early years of the 20th century: white resort trousers, a striped sailor polo, and a shrunken jean jacket in leather.



Valentino - Despite a fairly
skeptical consumer response, designers are still in love with transparency. If you're bold enough you can copy Valentino's bra under sheer fabric, but it's more likely you'll prefer a nice slip or tank under your see-throughs. The floral print skirt livens up black.


Yves Saint Laurent - This interpretation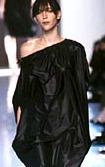 of a classic Saint Laurent chemise dress is a figure-flattering evening alternative to too-tight sheaths, strapless tops that slide down your chest, sleeveless garments that make you feel embarrassed about your arms, and other dressy disasters. This dress proves it's not impossible to be alluring yet covered up.

Gucci - Everything about this picture
shrieks "modern woman," from the messy Hollywood hair to the leather low-necked top, the mesh shirt and the short shoulder bag. These proportions, in any solid dark hue, worn with high heels, works. Make sure that the skirt just grazes the top of the knee (too short is dated) and make sure either the top or the bottom is leather, but not the whole outfit.

Donna Karan - The glamour of this gown depends on two things — the glowing silver fabric and sexy open back. It's easy to borrow both concepts: Shiny fabrics are everywhere, and as for the nudity, just make sure you're completely comfortable with whatever you're revealing.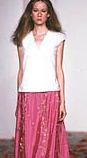 Susan Lazar - This is an extremely easy, fun look to create for yourself, with a pretty beaded or embroidered skirt (keep an eye out for ones imported from India) and a plain cotton pull-over. Looking for the perfect footwear for romantic summer patio parties? According to Lazar, barefoot is best.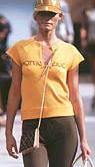 Louis Vuitton - Marc Jacob's designs for Louis Vuitton have revolutionized the image of this company, transforming an old line into a seriously hot label. Here he reprises the 80's with a slit T-shirt. Pick up a logo-T and a pair of scissors, add the stretch pants and shiny patent bag and you're off.



Celine - In addition to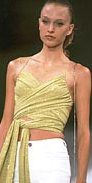 creating his signature line, Michael Kors designs for the rejuvenated house of Celine. Here Kors mixes American sportswear with French chic, showing belly-baring trousers with a stylish wrapped top. If you're in shape, this is the season to flaunt that midriff. Consider following Kors' lead and swapping your shrunken T for a more interesting top.


Looking Ahead: Fall-Winter 2000/2001 Collections

Donna Karan's collection paid tribute to Hitchcock's heroines. "Vertigo"- coifed models wore short, fitted jackets; pencil trousers; flared knee-length skirts and turtleneck bodysuits. Grace Kelly would have felt perfectly attired striding down the train platform carrying one of Donna's leather and cashmere totes, and wearing her sleek, belted wool coat. Fluid evening dresses are a Donna trademark, and this season she came up with some Oscar winners, something Alfred himself would have appreciated. There were sheer, crushed-pleat gowns, sparkly sequin halter dresses and long velvet columns with draped waists. Karan fall colors: black, red, eggplant and cinnamon.





Diane von Furstenberg's quadri-themed installation show (shadow, forest, stone and jewel) progressed from draped-neck dresses with starburst and kaleidoscopic botanical prints to jumpsuits and A-line skirts in patterns that mimicked tree bark or fur. Von Furstenberg earned her fashion credentials in the '70s by inventing the wrap dress, but they were surprisingly few in number; instead, there were slinky silk knits glinting with crystals, shirred satin skirts, and beaded mohair sweaters. Sometimes the cut was off (jewel-colored satin trousers had the fit of flea-market finds) but dresses have always been von Furstenberg's strong point.

As always, Calvin Klein is sensitive to what's in the air, and his Fall 2000 collection was pretty much a round-up of the best of New York's fashion week. Klein's versions were impeccably balanced between uptown elegance and downtown trendiness. Pants were slender and slightly high-waisted, most of them cropped mid-calf and paired with narrow jackets. Skirts came down to the knee with inverted pleats to add volume. Asymmetrical seams across tops and dresses made Klein's signature simplicity interesting. The heavy emphasis on leather added a slightly aggressive edge, and there was a touch of rock 'n' roll in the shiny satin suits and sparkling silver coats.