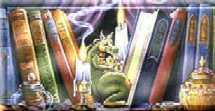 by Finzzzz
During the first week of May, The Mystery Writers of America held their annual convention in New York City. There they announced the best in mystery for the year 2000. Winners get the coveted Edgar Award, named, of course, after Edgar Allen Poe. Here are the major winners:




The Bottoms (Best Novel)
by Joe R. Lansdale

Deep East Texas in the Great Depression. A place where poverty is as prevalent and devastating as tornadoes. When young Harry Crane discovers a mutilated body in the river bottoms, a cold fear grips the region and racial tension nears fever pitch. Harry believes the killer is the Goat Man, a monster of Texas legend, made all the more real to Harry because he has actually seen him on his nocturnal wanderings. In the dark and gloom of the Texas night, and with no suspect in sight, the body count rises, a man is lynched, and the local law-Harry's father-intensifies the search for a savage killer who may be closer than anyone dares imagine. This is an excellent mystery from one of my favorite authors. Lansdale is as good of a storyteller as they come. Call it "To Kill a Mockingbird" with an edge. Lock the doors, turn off the phone, you're in for a scary read!






The Black Maria (Best Original Paperback)
by Mark Graham

While countries from around the world display their gleaming new inventions in the Centennial, nearby is a labyrinth of festering streets called Shantyville, with its opium dens, criminals, and freak shows. Here, Wilton McCleary comes across the butchered body of a girl. As McCleary grapples with a killing his own police superiors want to ignore, he realizes that he had come face to face with the girl's killer, and that the young man is linked to the family of a powerful industrialist, his callow son, and his beautiful, high-strung daughter. Suddenly a murder investigation takes McCleary into a family's private madness and a web of blackmail and revenge that will force him to solve a series of unspeakable crimes---or commit one of his own. Captured at Gettysburg, imprisoned in Andersonville, Wilton McCleary lost his innocence in the Civil War. But on the streets of Philadelphia he's found a home---as a grizzled city detective facing squalor and pathos every day on the beat. Now the whole world is celebrating a glorious future at the Centennial Exhibition in Philadelphia. But on the fringes of this massive exposition, McCleary wades into a drowning pool of murder, depravity, and deception that can only end with a dark ride on...THE BLACK MARIA. For Fans of historical mysteries, Graham is very good. I've read the first the first two in this series and am looking forward to getting to this one. Graham does a nice job depicting Old Philadelphia.


The next two are getting some great press and flying out of my bookstore!




A Conspiracy of Paper (Best First Novel by An American Author)
by David Liss

Benjamin Weaver, a Jew and an ex-boxer, is an outsider in eighteenth-century London, tracking down debtors and felons for aristocratic clients. The son of a wealthy stock trader, he lives estranged from his family--until he is asked to investigate his father's sudden death. Thus Weaver descends into the deceptive world of the English stock jobbers, gliding between coffee houses and gaming houses, drawing rooms and bordellos. The more Weaver uncovers, the darker the truth becomes, until he realizes that he is following too closely in his father's footsteps--and they just might lead him to his own grave. An enthralling historical thriller, A Conspiracy of Paper will leave readers wondering just how much has changed in the stock market in the last three hundred years.





Black Mass (Best Non-Fiction)
by Dick Lehr and Gerard O'Neill

Two boys--John Connolly, and James "Whitey" Bulger--grew up together on the streets of South Boston. Decades later, in the late 1970s, they would meet again. By then, Connolly was a major figure in the FBI's Boston office and Whitey had become godfather of the Irish Mob. What happened between them-a dirty deal to trade secrets and take down Boston's Italian Mafia in the process--would spiral out of control, leading to murders, and drug dealing, and racketeering indictments. And, ultimately, to Bulger making the FBI's Ten Most Wanted List. Told in compelling narrative style by the Boston Globe reporters who covered the case from the beginning, Black Mass is a riveting epic crime story that is also a book about Boston and Irish America; about the pull of place; and about the ties between that blind.


Let me know if you've read any of these. I'm always on the look out for some new authors to discover. Most recently I've been reading through the Elizabeth Peters' Amelia Peabody mysteries. You can reach me at Finzzzz@aol.com , and as always, support your local independent bookstore. A good link for the nearest one in your area is Booksense.com.